It must be Friday because my Friday Fill-Ins are here!
1. If I could travel back in time, I'd go to
the 1930's to see if this
test
was true
.
2. Give me
my life
or give me
nothing
.
3. I am listening to
my children

argue

over breakfast. (

Ahhh

....camp here they come!)
4. Somewhere, someone is thinking
this is the best day ever
.
5. I'll always be
here when my friends need me
.
6. My idea of a good time includes
spending time with my kids and husband
.
7. And as for the weekend, tonight I'm looking forward to
relaxing
, tomorrow my plans include
taking the kids to the Virginia Air & Space

Museum
and Sunday, I want to
stay inside where its cool - we're in a heat wave here

!
If you would like to participate or see more Friday Fill-Ins visit
here
.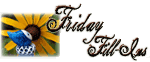 Edited
: Sorry to all who may have read this earlier with all the typo's. Guess I forgot to spell-check :-)