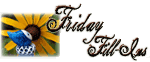 Friday Fill-Ins. To see others visit
here
.
1. Holidays in the summer are
great (well before I had to plan a birthday party they were).
2.
Hotdogs

, hamburgers, chicken (

ok

- pretty much anything)
are my favorite things to grill.
3. My thoughts are
consumed with things that need to be done for Boy 2's party this weekend that I haven't had a chance to do anything for since I've been in Virginia.
4.
Boy 2's 1st Birthday
is what I'm most looking forward to this weekend!
5. My favorite book so far this summer is ....
who has time to read when you have 3 kids at home and trying to run a business!!
6.
COFFEE (preferably iced but hot will do)
is the best way to begin a day.
7. And as for the weekend, tonight I'm looking forward to
preparing for Boy 2's party and watching fireworks
, tomorrow my plans include
Boy 2's 1st Birthday
and Sunday, I want to
drive back to Virginia (well I don't want to but I have to!)
Happy 4
th
to everyone!!