I seem to go MIA over the weekends. Sorry about that. It's not that I mean to, it just seems that weekends get hectic even when I plan nothing and I always seem to run out of time.
But I wanted to let everyone know (in case there is someone out there that hasn't seen this yet) that Ann Marie over at
Household 6 Diva
has started a
military spouse blogging community
!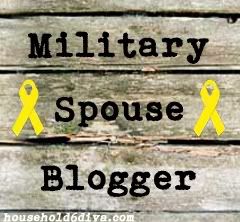 It's an awesome way to meet new military spouses or if you just want to support military spouses you can do that too. Go check it out and sign yourself up!