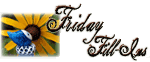 It's time for
Friday Fill-Ins!
1. A smile is
one of the best gifts to give and receive
.
2.
Skipbo
is my favorite board or card game.
3. I would love to have more
time
in my life and less
stress
.
4. When I think of the Summer Solstice, I think of
the beginning of pool time and playing in the sun.
5. I just remembered I need to
make Girl a doctor's appointment for this morning
.
6. One of my favorite song lyrics goes like this:
Now that your rose is in bloom; A light hits the gloom on the gray (it's Kiss from a Rose by Seal - our first dance at our wedding.)
7. And as for the weekend, tonight I'm looking forward to
D
oing nothing for once
, tomorrow my plans include
Driving to Fredricksburg, VA for a birthday party
and Sunday, I want to
RELAX by the pool
!
Happy Friday Everyone!!