It's another edition of
Friday Fill-In's
.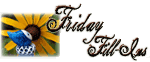 1. Birthdays are
just the passing of another year (and time for my hubby to start calling me old again - I'm only 5 months older than him though!!)
2.
Spring
is my favorite season because
it is the start of warmer weather and time outside
.
3. I feel my best when
I've had a good night of UNINTERRUPTED sleep
.
4.
Maryland style crabs
are my favorite food!
(No other style will ever beat MD)
5. First impressions are
lasting
.
6. The best piece of advice I ever received was
from my grandma when I got married -
never go to bed mad
.
7. And as for the weekend, tonight I'm looking forward to
absolutely nothing
, tomorrow my plans include
taking the kids on another "adventure"
and Sunday, I want to
relax by the pool
!
Happy Friday!